Digital Ultrasonic Flow System w/High Accuracy
Featured Product from Siemens Process Instrumentation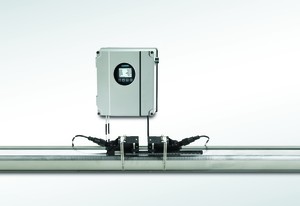 The SITRANS FS230 digital clamp-on ultrasonic flow meter offers a process-optimizing solution for measuring flow in virtually any typical or hazardous area fluid application.
The FS230 provides rugged and industry-leading performance with cost savings in both purchasing and operation. It works as a non-intrusive interface detector and is designed for oil applications requiring differentiation between changing liquids in a pipeline as well as determination of liquid quality.
The FS230 clamp-on flow meter is ideal for industries requiring high-quality liquid flow measurement, such as hydrocarbon, chemical, water and wastewater, HVAC, power, food and beverage, pharmaceutical, mining, and pulp and paper.
Benefits
Easy installation; no need to cut pipe or stop flow

Minimal maintenance; external sensors do not require periodic cleaning

No moving parts to foul or wear

No pressure drop or energy loss

Wide turn-down ratio

Choice of single and dual path versions to suit your operating conditions and requirements.