LR560 Microwave Radar Level Transmitter
Featured Product from Siemens Process Instrumentation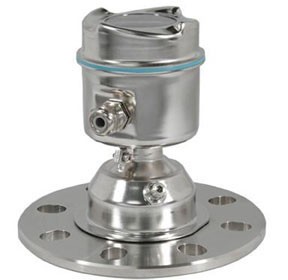 Siemens Introduces Sitrans LR560 Microwave Radar Level Transmitter for Solids Measurement
World's First 78 GHz (W Band) Designed for Accuracy and Performance
Siemens Industry Automation Division announced today the launch of the Sitrans LR560, the world's first 78 GHz (W Band) microwave radar level transmitter for solids level measurement. Siemens Sitrans LR560 combines level measuring with superior accuracy in tough environments, with intelligent signal processing for optimum performance at all operating stages.
The Sitrans LR560 transmitter is equipped with a newly developed lens-style antenna and uses non-contacting Frequency Modulated Continuous Wave (FMCW) radar technology. This new design is unrivaled in the instrumentation market today, and its benefits will be realized by industrial processes such as cement powder, plastic powder/pellets, grain, coal, wood powder and fly ash.
"The SitransLR560 sets the technological and innovative tone in the level transmitter market today, and its function and design will continue to help Siemens set the standard in the solids level measurement industry," says Todd Gardner, vice president, Sensors and Communications at Siemens Industry, Inc.
SitransLR560's plug and play performance is ideal for most solids applications, including those with extreme dust and high temperatures to +200 ºC (+392 ºF). Its unique design allows safe and simple programming using the Intrinsically Safe handheld programmer without having to open the instrument's lid.
Sitrans LR560 is a non-contacting 2-wire FMCW radar level measurement transmitter with a measurement range of 100 meters (328 ft). The transmitter emits a narrow four degree beam which avoids, for example, silo wall obstructions and other installation interferences, allowing it to be installed anywhere on the top of the silo.
Contact us for more information