Sipart PS100 Valve Positioner
Featured Product from Siemens Process Instrumentation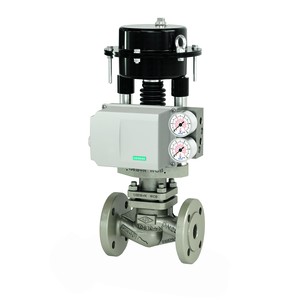 The Sipart PS100 can be initialized quickly at the touch of a button, automatically adjusting itself to the attached valve. If required, it is possible to optimize the positioner for a specific application with just one further touch of a button. The positioner can be set to different modes for precise and fast adjustment, open/close operation and other applications. These functionalities save time, cut the costs of commissioning, and increase the return on investment.
The Sipart PS100 is fitted with a large, easy-to-read display that allows users to see the status of the device at a glance. With its four-button operation and Namur NE107 support, the device can be configured quickly and conveniently.
The Sipart PS100 is available in two enclosure variants: polycarbonate and aluminum. Because of these particularly robust and durable materials, the Siemens positioner portfolio is capable of withstanding extremely harsh and aggressive environments. The Sipart PS100 uses state-of-the-art contactless technology to detect the position of the valve. This eliminates wear, extending the device's service life and facilitating easier, faster commissioning. Equipped with a corrosion-resistant silencer, the Sipart PS100 is especially suited to applications in the water and HVAC industries.