Weighing terminal control and your fingertips
Featured Product from Siemens Process Instrumentation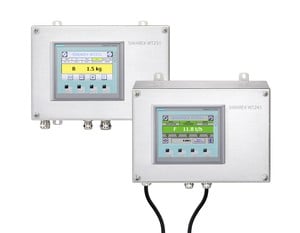 SIWAREX weighing terminals have both the brains and the brawn in the same package, with measurements displayed on a 4-inch wide, color display.
Built on experience – With over 50 years of experience providing products for weighing solutions Siemens terminals contain the functionality to meet your industrial weighing needs.
Robust housing – made of stainless steel and an IP65 degree of protection, Siemens terminals are built to withstand abuse and time.
Ease of configuration – all settings and parameters can be adjusted using the Touch Panel. Intuitive operation enables fast parameter assignment and commissioning.
Stand alone or integrated – Use an RS-485 Modbus RTU inter-face to integrate directly into conventional operations environments, to provide readings to a control room.