Do You Have the Thermal Mass Flow Advantage?
Featured Product from Sierra Instruments, Inc.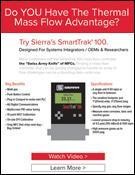 Do you have the thermal mass flow advantage? Try Sierra's SmartTrak® 100 designed for systems integrators/OEMs & researchers.
Many customers call the SmartTrak 100 mass flow controller the "Swiss Army Knife" of MFCs. Finding a mass flow controller that can be quickly changed to handle an array of flow challenges can be a daunting task - until now.
Key Benefits
Muliti gas
Push Button Control
Plug in Compod to make mini PLC
All Digital Communications
Multiscreen PID value tuning
10 point NIST Calibration
On-site DYI Calibration
Only MFC that ships next day - Buy Online!
View Infographic and learn how counting molecules saves you money and increases accuracy in results.
Learn moreabout SmartTrak 100.