New Economical OEM Line of Flow Controllers
Product Announcement from Sierra Instruments, Inc.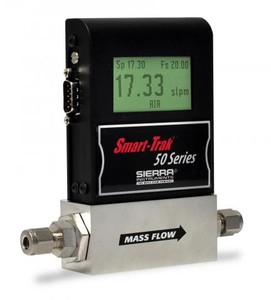 Sierra Instruments announces the release of their new Smart-Trak® 50 Series. Sharing the same advanced core sensor technology as the award-winning Sierra Smart-Trak® 100, the new Smart-Trak 50 is now available at nearly half the price with expedited off-the-shelf delivery at no extra charge.
"Whether you're a machine builder, systems integrator or end-user, the Smart-Trak 50 was designed for you!," says Matthew J. Olin, President of Sierra Instruments. "Right out of the box, the performance of the Smart-Trak 50 is incredible! But that's just the beginning. It's a modular design, so you're good for years to come. Add communications, displays or future functionality as you need it."
This performance/price advantage was made possible by reducing the number of mass flow controller parts by almost 50%, automating calibration around slightly reduced accuracy and leveraging R&D costs against already developed and proven sensor, valve and LFE technology. Sierra has also been able to streamline delivery by stocking the seven most common flow ranges. OEM's that buy in volume will see deeper price reductions.
The Smart-Trak 50 delivers accuracy of +/- 1.5% FS, repeatability of +/- 0.25% FS, 300 millisecond response time and 0-50 slpm (nlpm) range in one compact footprint. It comes with 316L SS wetted materials, field zero & span adjust, analog outputs as well as RS-232 and RS-485 with optional large local display and two DB9 connectors located on either side of the enclosure for convenient wiring.
Sensor, LFE and valve technology have been field-proven for over a decade. The Smart-Trak 50 can be calibrated onsite, thereby avoiding expensive and time consuming returns to the factory. All Sierra flow meters benefit from support for the life of the instrument from 150 Sierra offices in 50 countries.
If you would like more information about the 50 Series, visit http:www.sierrainstruments.com/products/50s.html or contact Sierra Instruments at 800-866-0200.
FAST DELIVERY: Seven of the most popular flow ranges in your choice of gas and engineering units between 0 to 20 sccm (nlpm) to 0 to 50 slpm (nlpm) are in stock for delivery in days, not weeks. If a flow range is not in stock, we will expedite any flow range required or ship with standard delivery in 2-3 weeks.
TEST OF TIME: Will the choice you make in specifying a mass flow controller today hold up to serious scrutiny in five or even ten years? Here's why the Smart-Trak 50 stands the test of time.
Stability: Sensor, LFE and valve technology field-proven for over a decade
Simplicity: Easy setup, field calibrate without sending units back to factory
Flexibility: Add communications, displays or future functionality as needed
Economy: Competitive pricing and volume discounting Service: Free engineering for basic customization
---