Slash Your Facility's Natural Gas Bills
Featured Product from Sierra Instruments, Inc.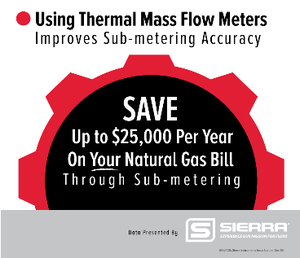 Psst. We've got a secret. One that could save you money. How much, you ask? Thousands. That's right. You could be saving thousands on your facility's natural gas bill.
Traditional diaphragm flow meters used for natural gas measurement can't account for changes in gas composition, resulting in a utility bill that can be less than accurate. While this isn't a problem for the typical residential home, it's a different story for a large facility.
Verifying your facility's natural gas bill starts with accurate natural gas sub-metering with thermal mass flow meter measurement.