Fiber Laser Efficiency
Featured Product from SigmaTEK Systems, LLC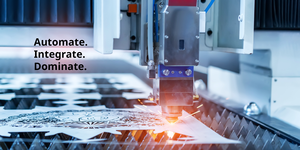 Fiber Laser Efficiency
Fiber lasers have been around for over 50 years; however, it is only in the last 30 or so that they have come into their own for commercial use. Has your facility moved to a fiber laser? Having a versatile machine in your shop is a must for today's manufacturer. Fiber lasers provide the small to the supersized facility with a machine that:
Is quicker for materials under ½" thickness

Provides cleaner parts requiring less production time

Has a lower cost to run, saving on shop overhead

Cuts a multitude of materials from metals to plastics to ceramics
You've invested a substantial amount of capital into your equipment, now take it a step further and ensure that you are getting the highest return on that investment.
SigmaNEST optimizes your machine's performance making the most of your shop's time and money. What can SigmaNEST do to improve your machine's operations? Its unique features give you the power to:
Automatically fillet corners to achieve faster part cut times and improve part handling safety

Support the robotic removal systems for safer part handling

Increase material yield by 5% – for more efficient use of raw materials

Reduce programming time by 5% – hours of manpower saved speeding up production

Use

CurvyRapids

TM

, Fly Cutting and Fly Piercing

capabilities allow for faster cutting on thin materials

Use

recessed tabs

to reduce production time – little to no grinding of parts means less man hours spent processing parts
With the shortage of labor and the pressure to stay competitive, don't hesitate, request your demo today so you can start to dominate in 2019!
Watch>>>SigmaNEST Overview
The Leading Profile Cutting and Sheet Metal CAD/CAM System in the World
SigmaNEST simply is the best nesting software in the industry. The proprietary nesting engines, developed and maintained by an expert team of mathematicians and engineers, offer unparalleled material utilization and nesting efficiency. SigmaNEST runs every type of machine, delivering maximum versatility and scalability to meet your requirements for today and beyond. It also increases productivity by saving valuable materials and manpower without sacrificing quality. SigmaNEST integrates with most popular design, manufacturing, and business programs using a simple and easy-to-learn interface.
All of this, plus the best customer support in the business, is why SigmaNEST is the industry leader with over 18,000 systems installed worldwide. And that number keeps growing. It is our drive, our passion, and our promise to give you the best software, service, and support in the industry. With SigmaNEST, your company truly can Nest with the Best®.
SigmaNEST leads the world in nesting systems for fabrication, providing unsurpassed material utilization, motion optimization, manpower efficiency, manufacturing automation, and data management.
SigmaTEK Services
We offer a variety of professional services, partner programs, and expert support to ensure that our company and software remains prolific in the manufacturing and fabrication industries. With more than 25 years of industry experience, we have become an integral part of the world's manufacturing effort, helping shape the future of material fabrication technology and creating the standard in nesting software.
Stay up-to-date with all things SigmaNEST 365 by subscribing to our monthly e-newsletter.
Interested in SigmaNEST 365 for your shop? Schedule a demo with a local representative.
SigmaTEK Academy empowers individuals and manufacturers to launch into the future of manufacturing
Couldn't make it this year? Sign up for notifications for SigmaTEK Acadamy 2018
The SigmaNEST ROI Calculator
Recently, we launched our new SigmaNEST website and shared our Five Minute Tour, which highlights some of the most exciting features of the new website. One of our new features is the Return On Investment (ROI) Calculator.