Four Ways to Save Money on Throughput Webinar
Featured Product from SigmaTEK Systems, LLC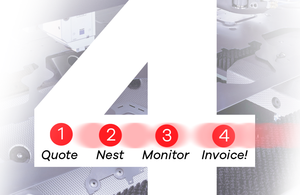 Four Ways to Save Money on Throughput Webinar
Check out our webinar on Four Ways a Fabricator can Save money on Throughput with Monty Brown, Regional Sales Director of the Central USA. This webinar will cover the quoting process for job shops and best practices to get a quote done quickly, how to process orders that come in, and how to generate an invoice for a customer. Click here to watch the webinar.
Watch>>>SigmaNEST Overview
The Leading Profile Cutting and Sheet Metal CAD/CAM System in the World
SigmaNEST simply is the best nesting software in the industry. The proprietary nesting engines, developed and maintained by an expert team of mathematicians and engineers, offer unparalleled material utilization and nesting efficiency. SigmaNEST runs every type of machine, delivering maximum versatility and scalability to meet your requirements for today and beyond. It also increases productivity by saving valuable materials and manpower without sacrificing quality. SigmaNEST integrates with most popular design, manufacturing, and business programs using a simple and easy-to-learn interface.
All of this, plus the best customer support in the business, is why SigmaNEST is the industry leader with over 18,000 systems installed worldwide. And that number keeps growing. It is our drive, our passion, and our promise to give you the best software, service, and support in the industry. With SigmaNEST, your company truly can Nest with the Best®.
SigmaNEST leads the world in nesting systems for fabrication, providing unsurpassed material utilization, motion optimization, manpower efficiency, manufacturing automation, and data management.
SigmaTEK Services
We offer a variety of professional services, partner programs, and expert support to ensure that our company and software remains prolific in the manufacturing and fabrication industries. With more than 25 years of industry experience, we have become an integral part of the world's manufacturing effort, helping shape the future of material fabrication technology and creating the standard in nesting software.
Stay up-to-date with all things SigmaNEST 365 by subscribing to our monthly e-newsletter.
Interested in SigmaNEST 365 for your shop? Schedule a demo with a local representative.
SigmaTEK Academy empowers individuals and manufacturers to launch into the future of manufacturing
Couldn't make it this year? Sign up for notifications for SigmaTEK Acadamy 2018
The SigmaNEST ROI Calculator
Recently, we launched our new SigmaNEST website and shared our Five Minute Tour, which highlights some of the most exciting features of the new website. One of our new features is the Return On Investment (ROI) Calculator.
Introducing SigmaNEST 365
SigmaNEST has just released a new way for you to move your operations into the cloud. SigmaNEST 365 is server-based software that will offer multiple benefits for any size shop.