Active Noise Control Evaluation Kit
Product Announcement from Silentium Ltd.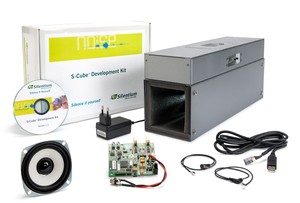 The S-ANC EVK provides developers with a cost-effective tool designed for initial evaluation of the Active Noise Control technology. The evaluation kit includes:
· Silentium's ANC Development Environment.
· Quiet Fan (S-Fan™) prototype, ready for ANC implementation.
· Silentium's comprehensive ANC manual, including theoretical introduction to ANC, practical experiments and S-Cube™ ANC Development Environment operation manual.
· Extensive technical support for 60 days.
Features:
· S-Fan™ prototype for preliminary ANC practice.
· Quick and efficient ANC evaluation for OEM air moving devices (radial and axial fan) using Silentium's ANC Development Environment.
· Broadband noise reduction, up to 10 dB(A) on top of passive means.
· Sound spectral analysis.
· Comprehensive ANC "cook book".
· Ideal for HVAC, IT, Automotive OEM applications.
· Suitable for Academic needs.
· Optional upgrade to Silentium's ANC Enterprise Kit (SEK)-OEM Kit designed to support the development and production stages.
Special Price! $1,680
---