Active Noise Control Solutions for IT & Telecom
Product Announcement from Silentium Ltd.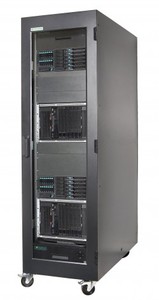 Silentium's Active Noise Control greens your IT and protects your employees' health with significant cost savings.
Financial benefits abound when noise is no longer an issue!
Silentium's AccoustiRackTMActive's (ARA) 30 dB(A) noise reduction and 8 kw of heat dissipation provide immediate ROI:
Internal fans can run at the highest speeds to cool equipment. This increases efficiency and lowers the rate of burnout
Energy reduction!

Efficient equipment use less energy
Increased fan speeds mean reduced air-conditioning costs. HVAC systems no longer have to compensate for the heat generated by freestanding devices

Reclaim square footage! Racking and stacking Silentium style eliminates the need for dedicated server rooms.
With Silentium, your employees can function at a higher level as well. The wearing effects of exposure to noise pollution have been associated with stress-related disorders, hearing loss, elevated heart rate, blood pressure, and increased risk for heart attacks. These health issues directly impact companies' bottom lines by causing absenteeism, reduced productivity, ineffective communication, and the dreaded higher health insurance premiums.
Silentium manufactures racks specifically designed for HP and Intel, among other technology partners.
---