Silverthin Thin Bearings- US Owned, 100% DFARS!
Product Announcement from SilverThin Bearing Group of Mechatronics Inc.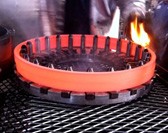 Mined, forged, machined, tempered, ground and assembled in the USA. It can be difficult to find products made domestically by American-owned companies. Silverthin thin section bearings are made in the USA and are 100% DFARs compliant.
Silverthin also offers slewing bearings that are internationally-sourced with rigorous inspection by the US Quality team, and we offer domestically sourced slewing options upon request.
Quality Made-in-the-USA raw material at the source of Silverthin's supply chain is the beginning of the product's strength. Rings and tube stock from the Midwest, balls from the Northeast and retainers from the Southeast, Silverthin stands out now more than ever as a domestically owned, domestically sourced, "Made in the USA" solution provider.

Play Silverthin Thin Bearings- US Owned, 100% DFARS! Video
---