Connected Lighting for Revolutionary Smart Cities
Featured Product from Skyworks Solutions, Inc.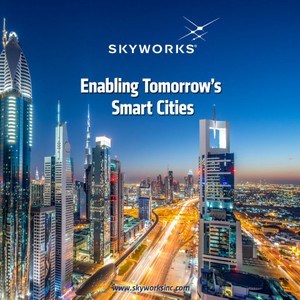 Skyworks Solutions, Inc. (NASDAQ: SWKS), an innovator of high performance analog semiconductors connecting people, places and things, today announced that its advanced wireless engines are enabling Philips' CityTouch end-to-end street lighting management platforms. Specifically, Skyworks' connectivity solutions provide superior efficiency, extended range and complete network coverage to facilitate seamless communication between Philips' smart street lamps and cellular base stations. These innovative devices allow city operators to reduce power consumption and support public safety through adaptive scheduling and remote services. Installations of CityTouch have commenced worldwide, fostering more livable and sustainable environments.