Low-cost, surface mountable mixer Schottky diodes
Featured Product from Skyworks Solutions, Inc.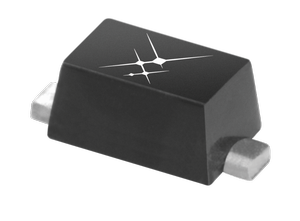 They include low barrier diodes and zero-bias detectors that combine Skyworks advanced semiconductor technology with low-cost packaging techniques. All diodes are 100 percent DC tested and deliver tight parameter distribution, which minimizes performance variability.
These diodes are available in SOD-882, SC-79, and SOT-23 packages. Wiring configurations include singles, series pairs, and reverse series pairs. They may be used at frequencies up to 24 GHz.

SMS7630 Series includes SMS7630-079LF, SMS7630-005LF, SMS7630-006LF, SMS7630-040LF.
Applications
Sensitive RF and microwave detector circuits
Sampling and mixer circuits
High-volume wireless
Wi-Fi and mobile
Low-noise receivers in high-sensitivity ID tags
Radio designs
Features
Tight parameter distribution
Available as singles, pairs, and dual pairs
Packages rated MSL1, 260 per JEDEC J-STD-020

Skyworks GreenTM products are compliant with all applicable legislation and are halogen-free. For additional information, refer to Skyworks De?nition of GreenTM, document number SQ04–0074.