New turnkey GNSS connectivity solutions
Featured Product from Skyworks Solutions, Inc.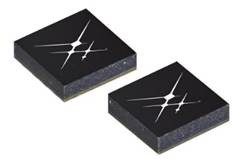 Skyworks is pleased to introduce our latest GNSS low-noise amplifier (LNA) front-end modules (FEMs), the SKY65933-11 and SKY65943-11. These turnkey GNSS connectivity solutions feature Skyworks' proprietary TC-SAW filters, are designed specifically for IoT applications including smartwatches, action cameras, drones, asset trackers and personal navigation devices, and can be easily integrated by wireless module and IoT device manufacturers. Both modules come in a compact 2.5 x 2.5 mm Multi-Chip Module (MCM) package with surface-mount technology and offer extremely low leakage current (1 uA max) ? a key benefit for battery powered IoT devices. They also integrate a pre- and post-filter, LNA and matching to reduce PCB area versus a discrete implementation, as well as a single DC supply for design flexibility and simplicity. The SKY65933-11 and SKY65943-11 are multi-GNSS compatible covering GPS, GLONASS, GALILEO, COMPASS (BeiDou) and QZSS receiver applications in the 1559 - 1606 MHz frequency range.