Easy-to-use 6-in-1 Electrical safety tester - 6330
Product Announcement from Slaughter Company (SCI)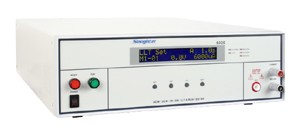 The 6330 is an easy-to-use 6-in-1 multi-function electrical safety tester that will perform six common electrical safety tests all in a single instrument.This maximizes production line throughput far beyound a single function instrument while taking up less rack space. The 6330 features the following test modes: AC Hipot, DC Hipot, Ground Bond, Insulation Resistance, Functional Run and Line Leakage. The 6330 specifically provides 3.5 kV of AC Hipot test voltage, 3.5 kV of DC Hipot test voltage, 30 Amps of Ground Bond test current, and Insulation Resistance measurements up to 1000 M? at 1000 Volts DC. In the Functional Run mode, the 6330 can monitor minimum and maximum readings for Voltage, Current, Power, Power Factor, and Leakage Current. This allows manufacturers to ensure that their DUT is operating as intended right after the required safety tests have been performed. In the Line Leakage test mode, the 6330 has 5 common measuring devices built-in. This allows for quick and easy line leakage testing to common agency specifications. The ability to perform all six of these tests in a single instrument allows manufactures to efficiently and cost-effectively run electrical safety testing workstations.
The 6330 provides an intuitive interface that makes setting up and performing the required tests quick and easy to do. The 6330 also offers 10 memory locations with 20 steps per memory and a single step mode. This allows operators to setup and store testing procedures for multiple products in the instrument's internal memory. The single step mode allows the 6330 to perform each test in a setup individually, providing manufacturers flexibility in configuring their testing procedure.
For those users who need to run their tests remotely, the 6330 has an optional RS-232 Interface. This allows for the direct connection of the 6330 to a PC providing users with the benefit of being able to setup the instrument remotely. This allows for quick and accurate configuration of all test parameters. In addition to this in compliance with many safety agency requirements it becomes a very simple process to download all test results directly to a PC for record keeping of electrical safety tests. Interested - request a video demonstration today!
Additional features include: electronic dwell settings, electronic ramping, milliohm offset capability, fail stop on / off mode, adjustable output current and milliohm trip settings, and software calibration control.
---