Easy-to-use 4520: 4-in-1 electrical safety tester
Product Announcement from Slaughter Company (SCI)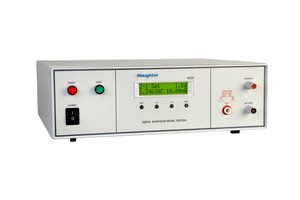 The 4520 is a no-nonsense, easy-to-use 4-in-1 electrical safety tester that provides a cost-effective solution for manufacturers looking for a single tester that includes 500 VA Hipot test functionality alongside DC Hipot test, Insulation Resistance test and Ground Bond test functionality. With increasingly demanding production environments you need an electrical safety tester that doesn't complicate your manufacturing process. The 4520 provides all the test functionality and features you need without bells and whistles the other guys claim to offer.
In AC Hipot mode, the 4520 can output up to 5 kV at 100 mA and in DC Hipot mode it will output up to 6 kV at 10 mA. The Insulation Resistance test mode offers a test range of up to 1000 Megohms while the Ground Bond test mode provides up to 30 Amps of test current.
The simple menu driven setup allows manufacturers to quickly program and save individual test parameters. The 4520 also offers six memories that provide six steps per memory. This is a benefit for manufacturers that have multiple products on the same production line, eliminating the need to re-program the tester each time a different product needs to be tested. Furthermore, the optional RS-232 Interface allows manufacturers to perform their electrical safety tests remotely in a PC enabled work station.
Additional features of the 4520 include:
Line & Load Regulation
The 4320 remains consistent under no load and full load - there is no need to adjust the output voltage after the test starts.
No load Set-up
Ensures operator safety by allowing the user to set output parameters without the high voltage activated.
Electronic Ramp Settings
Provides a gradual and timed method to increase output voltage to the DUT, minimizing any damage from quickly over-applying high voltage to sensitive DUTs.
Electronic Dwell Settings
No guesswork. The electronic dwell control helps keep test results consistent by ensuring the test duration is the same for each product tested.
Tamper Proof Front Panel Controls
Limit user access so that only authorized personnel can change test parameters.
---