Bearing Preload Springs - Prolong Bearing Life
Featured Product from Smalley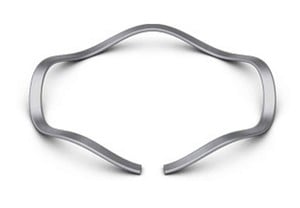 Smalley Wave Springs are ideal for preloading bearings. The wave spring preloads the bearing through its outer race, taking up play in the bearing. Preloading will reduce bearing damage, wear, noise and vibration. The wave spring prevents sliding between the rolling
elements.
Readily Available
150 Standards matching popular bearing sizes
Stocked from 9 mm to 580 mm in carbon and stainless steel
No-Tooling-Costs™ on customs; .157" to 120" diameters
Browse Parts or Request Samples for Your Application
View Smalley's Metric Bearing Preload Springs Part Table to compare characteristics, request a quote, request samples, customize your part, or request free samples of some of our most common requested Bearing Preload Springs from the table below.
Use the table below to select the appropriate wave spring for your bearing size. The numbers represent typical standard bearing part numbers and/or the suffix of a standard bearing size.
Learn More About Smalley Wave Springs