Download Nested Spirawave® Wave Springs Brochure
Featured Product from Smalley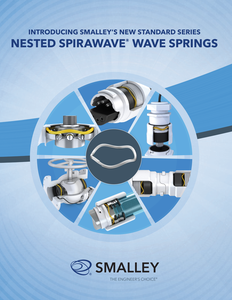 Smalley is pleased to announce the release of a new Nested Spirawave Wave Springs series. Smalley has been producing nested wave springs as customs for over 30 years, but this will mark the first standard series on the market.
"Introducing a standard line of nested springs gives customers the ability to streamline production while meeting their high force requirements," says Dan Frank, Research and Development Engineer.
Standard Nested Spirawave springs are available from .500 to 4" or 16 to 100 mm in carbon and stainless steel. Stock parts are available for overnight shipping. Custom parts are available from .157 - 120" (4 - 3,000 mm).
The new product brochure offers information about standard imperial and metric sizing, customization options, and application examples.
Download today to learn more about this new standard series from Smalley.