Hoopster Retaining Rings for Shallow Grooves
Featured Product from Smalley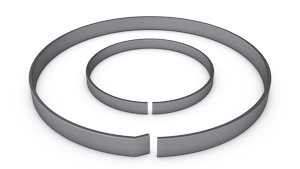 Smalley Steel Ring Company, the world leader in the manufacturing and development of Spirolox Retaining Rings, Constant Section Snap Rings, and Wave Springs introduces new Hoopster Retaining Rings. Hoopster rings fit into much shallower grooves than regular snap rings or retaining rings.

The Hoopster's low profile, precision circularity and small radial size allow it to be an unobtrusive component in an assembly. Hoopster Retaining Rings are suitable for light to heavy loads and are ideal for thin wall tubes. An additional advantage of the Hoopster is its potential for high thrust capacity. The low radial profile will not twist or deform under load as with conventional retaining rings.

Hoopster Retaining Rings are easily installed without special tools. Standard sizes are stocked from .375" to 3" and offered in carbon and 302 stainless steel. Customs can be made with No-Tooling-Charges™.

Smalley offers complete information on the Hoopster Retaining Ring, including a new catalog supplement featuring part numbers and material options. Information is available at www.smalley.com/hoopster.