Retaining Ring Types and Selection
Featured Product from Smalley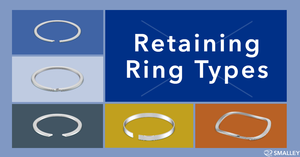 So you completed the first step by learning what a retaining ring is, as well as when and why you should use one.
(Not sure? Check out: Retaining Ring Overview)
Now you're searching by using our Part Tool Search. You tried looking up a retaining ring based on the size of your housing or shaft diameter.
Here comes the realization that you have many different ring types and options to choose from.
1. Why are there so many different types of retaining and constant section (snap) rings?
2. What type of retaining ring should I use for my application?
This blog covers the main types of retaining rings and constant section (snap) rings so that you're more informed to find the best possible ring for your application.
There are a variety of ring options because we know your application requirements are unique. Assembly type, assembly size, thrust capacity, installation and removal methods, and environmental factors all play a role in determining which ring type will be selected.
The first step in selecting a retaining ring is to decide if you need an internal retaining ring or an external retaining ring.
Determine whether you need a ring to retain components on a shaft, internally retain components within a housing, or in some cases, both. Internal rings are located in a housing groove, while external rings sit in a shaft groove. All of our rings are specified as either internal or external, with the exception of an OD/ID lock ring, which functions in both.
Once the assembly type is decided, the assembly size should be specified.
The housing or shaft diameter, as well as groove diameter and width, are all important specifications for retaining ring selection. Let's take WH-100 as an example.
It's a two-turn housing ring specified for a housing diameter of 1 in. and sits in a 1.043 in. groove diameter and 0.042 in. groove width. All of our standard rings have these specifications to help you determine which ring will fit your application.
Our standard sizes range from 1/4 in. to 16 in., or 6 mm to 400 mm in both carbon and stainless steel.
If you don't see a size that fits your application, our team of engineers can tailor a custom ring to precisely meet your size requirements.
Now that you've specified an assembly type and size, we'll go over the different types of retaining rings.
With over 6,000 standard retaining rings and 30 configurations, Smalley has plenty of ring types to suit anything from light to heavy-duty applications.
The table below is a general overview of the 5 main types of retaining rings we offer: Single-Turn Spirolox Retaining Rings, Multiple-Turn Spirolox Retaining Rings, Constant Section, Hoopster, and WaveRing.
Types of Retaining RingsSpirolox Retaining RingsSingle-Turn Spirolox Retaining Ring
A Single-Turn Spirolox Retaining Ring is a circular flat-wire ring with less than 1 revolution, or as we call it a "turn".
It is designed for light-duty and low clearance applications. A single-turn ring is an economical option when only light load-bearing is required. It's quick to install and remove, has a thinner cross-section in comparison to multiple-turn rings, round edges, and a gap.
Single-Turn Spirolox Retaining Rings are stocked from 1/4 in. to 10 in., 6 mm to 300 mm.
Multiple-Turn Spirolox Retaining Ring
A Multiple-Turn Spirolox retaining ring is a circular flat-wire ring with more than 1 revolution (or turn).
There are many configurations, as this is Smalley's most popular retaining ring type. From medium to heavy-duty load-bearing, multiple-turn retaining rings offer 360° of retaining surface and have No Ears to Interfere® with mating assemblies. They have a uniform cross-section for even load distribution and have no lugs for improved aesthetic appearance. They are designed to be installed by hand, which is possible because the material is distributed across 2 or more turns. They also require no special tooling for removal. Our retaining rings are groove interchangeable with most stamped (snap) rings.
Multiple-turn retaining rings are stocked depending on the configuration. Medium-duty are stocked from 1/2 in. to 11 in. Medium-heavy are stocked from 1/2 in. to 10 ½ in.. Heavy-duty are stocked from 1/4 in. to 15 in.
Constant Section (Snap) Rings are the go-to choice for heavy-duty applications. They feature a uniform cross-section around the circumference of the ring. Specified for high impact or shock loads, the consistent width of the ring allows for even load distribution around the ring and groove. Often thought of as the strongest of the ring types, they have a thicker cross-section and square edges.
Constant Section (Snap) Rings are stocked from .375 in. to 10 in. diameters, 13 mm to 300 mm.
Hoopster®
Smalley's Hoopster® Rings are an engineer's choice when radial space is a problem. The Hoopster's innovative low profile design allows it to retain components in shallow grooves with minimal radial projection. The thin radial wall of a Hoopster makes it suitable for component retention in thin-walled applications.
Hoopster® Rings are stocked from 3/8 in. to 3 in., 10 mm to 76 mm.
WaveRing®
A WaveRing serves a dual purpose. It acts as a retaining ring, while also providing preload, thus eliminating a need for both a retaining ring and a preload spring.
WaveRings are stocked from .750 in. to 5 in., 19 mm to 127 mm.
Similarities Between Retaining Ring Types
While the five main retaining ring types all serve different purposes, we'll now cover some notable similarities.
Manufacturing
All of our retaining rings are coiled from flat wire with our unique edgewinding process. This makes our rings an economical option, as there is no scrap produced, such as during stamping. What this allows for more cost-effective material options like stainless steel, especially at larger diameters. What this also means is there is no dedicated punch and die tooling, so custom sizes are produced quickly and with No-Tooling-Costs™.
Material
All standard retaining rings are available in carbon and stainless steel. Spirolox rings come in carbon steel, 302 and 316 stainless steel, while Constant Section (snap) rings and Hoopsters come in carbon steel and 302 stainless. Retaining rings can be produced in a variety of custom materials to meet unique environmental conditions. Take a look at our Material Selection Guide, and consult with a Smalley engineer to find the appropriate material for your retaining ring.
End Types
While custom end configurations can be specified for any of our rings, all Spirolox, Constant Section, and WaveRings come standard with a removal notch for simple and easy removal*. Insert any flat-bladed tool, such as a flat head screwdriver, into the removal notch and radially unwind the ring up and out of the groove. For small diameter rings, a dental pick is the recommended removal tool.
*rings from .250 in. to .347 in. can only be produced with a pi-cut end configuration.
Key Points
Interested in learning more?
We've put together a FAQ Retaining Ring E-Book for you.