Spiral Retaining Ring Removal Tool
Featured Product from Smalley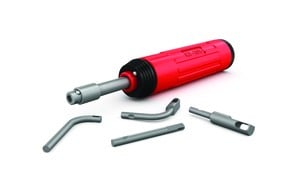 Smalley has developed a tool exclusively designed to remove multiple-turn rings. This new Spiral Retaining Ring Removal Tool fits precisely between the ring layers to access the removal notch.
When slipped in place, the tool completely surrounds and encapsulates the removal notch and effectively eliminates slipping as you pull the ring's free end out radially and up for removal.
The tool simplifies field disassembly and is available in four standard ends: small-straight, small-90° bend, large-straight, and large-90° bend.