Stainless Steel Wave Springs - In Stock
Featured Product from Smalley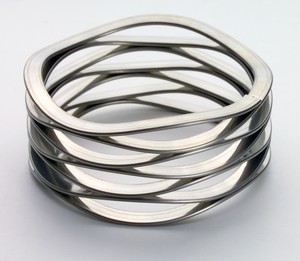 Smalley Wave Springs offer the unique advantage of space savings when used to replace coil springs. By reducing spring operating height, wave springs also produce a decrease in the spring cavity. With a smaller assembly size and less material used in the manufacturing process, a cost savings is realized.
Over 4,000 wave springs are available from stock in both carbon and 17-7 stainless steel. Stock sizes are available from .188" to 16" diameters. Customs can be manufactured from .157" to 120" with No-Tooling-Costs™.
Wave springs operate as load-bearing devices. They take up play and compensate for dimensional variations within assemblies. A virtually unlimited range of forces can be produced whereby loads build either gradually or abruptly to reach a predetermined working height. This establishes a precise spring rate in which load is proportional to deflection.
Functional requirements are necessary for both dynamic and static spring applications. Special performance characteristics are individually built into each spring to satisfy a variety of precise operating conditions. Typically, a wave spring will occupy an extremely small area for the amount of work it performs. The use of this product is demanded, but not limited to tight axial and radial space constraints.