Line Scan Camera for Precision Detection
Featured Product from Smartmore Corporation Limited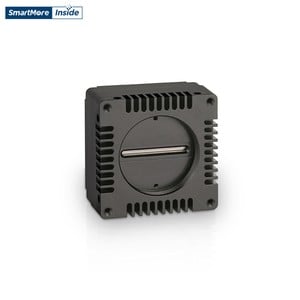 Line scan cameras are designed for industrial production of large-format inspection and high-speed pipeline inspection. The product use domestic chips and a GigE interface, it is capable of producing images with an ultra-high-resolution and ultra-high-speed, which is significantly important to improve the production efficiency and detection in the field of industrial inspection. Unlike area-scan cameras that capture the entire object in one single frame, line scan cameras contain a row of pixels. When the object passes through the camera, the final 2D image will be constructed pixel by pixel.
Challenge:
When it comes to objects that have a non-planar appearance such as cylindrical shape, area scan cameras are unable to capture their entire surface area and proceed to further inspection. For this case, a line scan camera is able to "unwrap" the object and produce high-resolution imaging for precise measurement and defect detection.
In addition, line scanning systems have proved to have specific advantages over area scanning technology. For example, when the object has increased beyond the size, speed, accuracy, and resolution capabilities of area-scan cameras, the line scan camera provides the best solution. The line scan camera can match the high-speed line array acquisition rate of 67000 lines per second at the level of 500 to 8000 pixels per line. This allows the machine vision system to acquire high-resolution images for fast-moving, large and cylindrical objects for a wide range of industrial applications including flat panel displays, solar cells, car parts, etc.
Benefits
The line frequency can reach up to 48K, and the software can set it freely

Support 3-line TDI mode, double the brightness and reduce the requirements for light sources

Support multiple trigger modes such as encoder synchronous trigger, photoelectric sensor and encoder combination synchronous trigger

Support frequency division and frequency doubling of encoder signal, and accurately match with the motion platform

The hardware ISP supports gamma, contrast, lens shadow correction, etc

Support Poe power supply, with a maximum transmission distance of 100m

Color linear array camera supports RGB three-line true color output