Membrane Bioreactor - Flows up to 3,000,000 GPD
Featured Product from Smith & Loveless, Inc.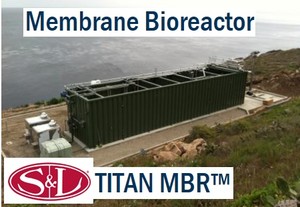 The TITAN MBR™ pre-engineered wastewater system for municipal and industrial applications uses submerged, flat-plate membrane technology. It delivers high quality treatment performance with minimal operational requirements. And its robust design will stand the test of time.
Flows - up to 3,000,000 GPD per tank (11,350 cmd)
Models - factory built, field erected of steel & concrete.
Design - BOD, TSS & Nutrient removal.
Easy-clean S&L Flat-Plate membrane design
No permeate pumps
Flexible process options that are operator friendly
More economical cleaning method: clean in place
No separate membrane tanks with recycle pumps
No integrity testing required
Process guarantees and full customer support
Systems are available in standard & custom designs and offer smaller footprints than conventional systems. The submerged membrane elminates the need for clarifiers and sand filters and produces better effluent quality.
Learn more about the TITAN MBR™ pre-engineered wastewater system