WEBINAR: Designing Wastewater Treatment Plants
Featured Product from Smith & Loveless, Inc.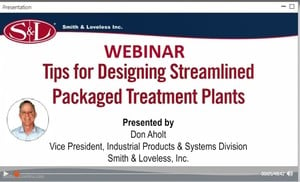 Insightful webinar with a discussion on designing and operating streamlined water treatment plants that incorporate virtually any process flow scheme in a single, packaged tank. Walk through sample process schemes, receive helpful design tips, and find out how streamlined designs achieve numerous benefits like minimizing footprint, eliminating yard piping, and simplifying operation and maintenance.
Presentation includes:
Differences between membrane bioreactors (MBRs), biofilm processes and extended aeration plants
How to achieve the same levels of process flexibility and redundancy as multi-tank designs by looking at examples of how to implement dual aeration zones
Ways to keep plants operational while performing regular or periodic diffuser maintenance.
See "smart tank" designs that provide automation, advanced control and remote monitoring of packaged treatment plants.
Tips for improving on-site installation processes.
NO CHARGE FOR THIS VALUABLE PROGRAM - SIGN IN HERE