Custom Temperature Probes - Thermo Probes
Featured Product from Smith Systems, Inc.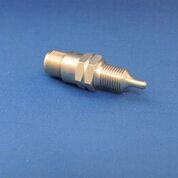 Smith Systems, Inc. manufactures custom temperature probes to match your specifications.
Smith Systems, Inc. is experienced in creating custom product designs for the customer's specific needs. These special products range from space applications to industrial machinery applications. Your custom design can be assigned a dedicated model number exclusive to you and your application. Special qualification test procedures and acceptance test procedures can be part of your controlled package. Specific marking can be applied. Smith Systems, Inc. will consider short run or volume production of product. We can respond in a timely manner with a cost effective solution to your requirements.
Thermo-Tran High Reliability Temperature thermistor sensor probes are available in a variety of configurations.
Temperature Sensor Technologies Used:
Thermo-Fuse Probes
Thermostat Probes
Thermistor Sensor Probes
Thermocouple Probes
RTD Probes
Our experience ranges from high-reliability turbine exhaust gas temperature probes to freeze sensors that protect instruments and equipment from sub-freezing temperatures.
If your temperature sensor application cannot be satisfied by any of our pictured models, contact us with your requirements, and let Smith Systems, Inc. design a product to meet your unique specifications.