Digital Speed Sensors, Active Speed Sensors
Product Announcement from Smith Systems, Inc.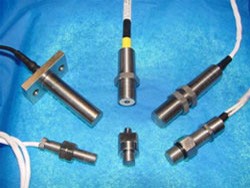 Smith Systems Digi-Tran ® Digital Speed Sensors utilize integral active signal conditioning electronics to provide constant amplitude output regardless of exciter speed. These speed sensors can be powered with a wide range of supply voltages and are compatible with digital equipment. These speed sensors can be used to detect ferrous metal and magnets in motion. Smith Systems, Inc. offers three types of active speed sensors, standard digital, zero speed, and proximity.
Please use the links to he right for additional information, specifications and Drawings or to ask a question or to request a quotation for your application.
To download our full Standard and Custom Catalog please use this link: http://www.smith-systems-inc.com/products_and_services/online_catalog/online_catalog.pdf
Smith Systems, Inc features 3 types of active speed sensors:
Standard Digital Speed Sensor
Zero Speed Sensors
Proximity Speed Sensors
Smith Systems, Inc. is a company committed to meeting your unique requirements. We are here to assist with your integration of sensors into end products and systems. Whether the use is in process controls, aircraft gas turbine engines, critical speed controls and braking systems of rail cars, or in remote unmanned pumping and power generating stations. Smith Systems, Inc. can provide cost effective sensor solutions to meet your special application needs with quality and reliability designed into them.
The standard digital sensors are passive sensors with integrated signal conditioning for operation in the 5 to 30 KHz range. Zero speed sensors utilize a special sensing element for operation in the 0 to 20 KHz range and for wide air gaps. Proximity sensors are used for detecting ferrous and non-ferrous metal. The typical operating frequency range for a proximity sensor is 0 to 2 KHz.
Smith Digi-Tran ® speed sensors are available in a variety of housing configurations and terminations. Housing configurations to accommodate applications with high pressure and fluid submersion are available. These sensors are designed to accommodate a broad spectrum of temperatures and are resistant to oil, dirt and moisture.
Why Smith Systems?
Specialists in difficult applications
The premium manufacturer of OEM and after market
Proven in-service reliability
Factory direct sales and engineering support
Competitive pricing and on-time delivery
---