No-Drag Flow Meter Sensors, Proximity Sensor
Featured Product from Smith Systems, Inc.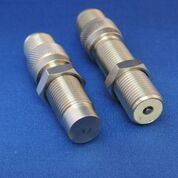 High Quality Low cost Flow Meter Sensors from Smith Sensors.
Smith Systems, Inc. proximity sensors can be used for providing "no drag" speed detection in turbine flow meters. These flow sensors can be powered with a wide range of supply voltages and are compatible with digital equipment. These flow sensors project a high frequency field that does not slow the speed of the target. Special self-compensating circuitry has been integrated to provide long term stability.
No-drag flow meter sensors are available in a variety of housing configurations and terminations. These flow sensors are designed to accommodate a broad spectrum of temperatures and are resistant to oil, dirt and moisture.
Why Smith Systems?
Specialists in difficult applications
The premium manufacturer of OEM and aftermarket
Proven in-service reliability
Factory direct sales and engineering support
Competitive pricing and on-time delivery
Mission Statement
Smith Systems, Inc.is an innovative manufacturer of state-of-the-art sensing products serving the world marketplace, dedicated to customer satisfaction, employee growth and community enhancement
Customer Satisfaction
Smith Systems, Inc.is firmly committed to the philosophy that quality and reliability make a product cost effective. To that end, Smith Systems, Inc.is not only concerned with customer wants, but customer needs and customer satisfaction. We are committed to service by providing the most reliable product possible.