Passive Speed Sensors, Passive Speed Sensor
Product Announcement from Smith Systems, Inc.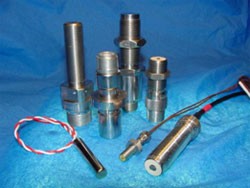 Smith Systems, Inc. passive speed sensors convert mechanical motion to an A/C voltage without the need of a power supply. These self-contained magnetic sensors produce a magnetic field which, when in the proximity of ferrous objects in motion, generate a voltage. The frequency of this voltage is directly proportional to the speed of the object in motion.
Magna-Tran ® speed sensors are available in a variety of housing configurations and terminations. Housing configurations to accommodate high pressure and fluid submersion applications are available. These passive sensors are designed to accommodate a broad spectrum of temperatures and are resistant to oil, dirt and moisture.
Products include (click below for additional information and specifications):
If you have any questions on our your specific application or our Capabilities or to requst a quotation:
Smith Systems, Inc. is a company committed to meeting your unique requirements. We are here to assist with your integration of sensors into end products and systems. Whether the use is in process controls, aircraft gas turbine engines, critical speed controls and braking systems of rail cars, or in remote unmanned pumping and power generating stations. Smith Systems, Inc. can provide cost effective sensor solutions to meet your special application needs with quality and reliability designed into them.
Smith Systems extensive Transportation and Aerospace Products and Capabilities (click below for additional information):
About Smith Systems, Inc.
Smith Systems, Inc. is a privately owned manufacturer of sensors for speed, motion and temperature, as well as controls, custom instrumentation, cabling and harnessing associated with these devices. Our capabilities range from commercial standards (found in assembly and process machinery), to the high reliability devices used in aerospace applications, to durable products for reliable performance in harsh environments.
We are a qualified source for flight hardware and have supplied products for civilian, military applications and space flight. These products are designed to survive high vibration and extremes of thermal and mechanical shock.
Smith Systems, Inc. is a primary supplier of these environmentally protected products to railcar OEMs, transit authorities and private rail operators. Our products monitor axle speed as feedback for anti-skid braking control, journal bearing temperature, other fluid and gas temperatures, and other speed inputs for various aspects of train control. These products endure the worst of operating conditions – the underside of a railcar.
---