Right Angle Temperature Sensors, Temp. Sensor
Product Announcement from Smith Systems, Inc.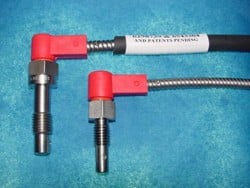 Smith Systems, Inc.offers the design capabilities that provide customers with improved products for long-term reliability. The Right Angle Sensor is an example of a new product designed specifically with customer needs in mind. The 360 ° cable exit can be oriented anywhere around the center line of the sensor body after it is torqued in place. This feature eliminates large service loops in cabling, greatly reducing the incidence of fatigued, snagged or cut cables. This design allows for installation of the sensor & cabling close to the chassis of the vehicle when limited space is a concern. This feature is available in speed, motion or temperature sensors.
Please use the links to he right for additional information, specifications and Drawings or to ask a question or to request a quotation for your application.
To download our full Standard and Custom Catalog please use this link: http://www.smith-systems-inc.com/products_and_services/online_catalog/online_catalog.pdf
To directly link to our Product Page, click here: http://www.smith-systems-inc.com/products_and_services/application_specific_design/right_angle_temperature_sensor/
Why Smith Systems?
Specialists in difficult applications
The premium manufacturer of OEM and after market
Proven in-service reliability
Factory direct sales and engineering support
Competitive pricing and on-time delivery
Mission Statement
Smith Systems, Inc.is an innovative manufacturer of state-of-the-art sensing products serving the world marketplace, dedicated to customer satisfaction, employee growth and community enhancement
Customer Satisfaction
Smith Systems, Inc.is firmly committed to the philosophy that quality and reliability make a product cost effective. To that end, Smith Systems, Inc.is not only concerned with customer wants, but customer needs and customer satisfaction. We are committed to service by providing the most reliable product possible.
---