Smart Sensors and Smart Sensor Controls
Product Announcement from Smith Systems, Inc.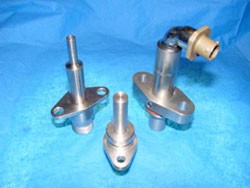 Smith Sytems, Inc. Smart Sensors Include:
Stop Motion Sensors
Over / Under Speed Sensors
Quadrature Output Sensors
Rotational Sensors
Smith Systems, Inc. offers a variety of signal processing and control functions including stop motion detection, under/overspeed detection, quadrature output and rotational direction. We specify the appropriate sensing technology depending on the application, then build in the circuitry to provide the control system the necessary signal. Signal conversion is done either internally or in-line. Our products can be configured to trigger standard switch/control mechanisms or we can provide the complete system.
Please use the links to he right for additional information, specifications and Drawings or to ask a question or to request a quotation for your application.
To download our full Standard and Custom Catalog please use this link: http://www.smith-systems-inc.com/products_and_services/online_catalog/online_catalog.pdf
To directly link to our Product Page, click here: http://www.smith-systems-inc.com/products_and_services/smart_sensors_and_controls/
Our engineering staff will be glad to work directly with you to help specify the right solution to your unique sensing and control application.
Smith Systems, Inc. is a company committed to meeting your unique requirements. We are here to assist with your integration of sensors into end products and systems. Whether the use is in process controls, aircraft gas turbine engines, critical speed controls and braking systems of rail cars, or in remote unmanned pumping and power generating stations. Smith Systems, Inc. can provide cost effective sensor solutions to meet your special application needs with quality and reliability designed into them.
---