Speed Sensors, Transmission , Automotive & Racing
Product Announcement from Smith Systems, Inc.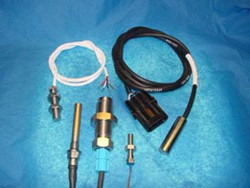 Hall Effect Proximity Vehicle Transmission and Speed Sensors For Automotive Racing from Smith Systems, Inc.
Hall Effect Proximity Sensor Technology carried over from aerospace sensors enables these products to survive the vehicle transmission racing environment's hostile conditions. Smith Systems, Inc. sensors are running in NHRA ®, Champ ®, Indy ® and F1 ® cars.
High reliability, durability and peak performance are designed in and built into every sensor. Every device is pre-qualified by cycling through a rigorous test program.
Please use the links to he right for additional information, specifications and Drawings or to ask a question or to request a quotation for your application.
To download our full Standard and Custom Catalog please use this link: http://www.smith-systems-inc.com/products_and_services/online_catalog/online_catalog.pdf
We offer single and dual output, biased and un-biased, variable reluctance and Hall Effect technology proximity speed sensors. Both the passive and active probes can be used for crank triggers, vehicle transmission speed sensors, turbocharger speed sensors, distributor pick-ups and general speed inputs to data acquisition/engine management systems. We also manufacture high reliability probes for MSD ® and Electromotive ® ignition systems.
Smith Systems, Inc. is a privately owned manufacturer of sensors for speed, motion and temperature, as well as controls, custom instrumentation, cabling and harnessing associated with these devices. Our capabilities range from commercial standards (found in assembly and process machinery), to the high reliability devices used in aerospace applications, to durable products for reliable performance in harsh environments.
---