Choose the Right EOAT Solution - Food Processing
Featured Product from Soft Robotics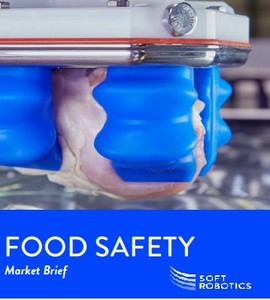 Market Brief: The demand for increasing automation in food processing and handling continues to grow – and for good reason. Labor shortages. The ceaseless pressure to increase productivity. Expectations for consistency and high quality. Regulatory calls for more transparency and accountability in the food supply chain.
The list is long, but one benefit may be more significant than all others: food safety. The good news is that the right end-of-arm tools (EOATs) used in automating food handling and processing make it possible to create clean and contamination-free production areas that lower the risk of costly food recalls.
Not all EOATs are created equally. Automation teams in food processing and handling will do their homework in advance of any decision to ensure that the EOATs they choose do not put their operation at risk from biologic contamination, cross-contamination or in fact, any kind of contamination.
What to Ask
When evaluating an EOAT solution for food processing and handling these questions will help choose a solution that delivers both the productivity and safety results needed.

? Can the solution meet the required rate of the application?
? Can it accommodate a range of product variation?
? Does the solution conform to the appropriate regulations? How can the supplier prove it to me?
? Does the solution provider adhere to Good Manufacturing Practices in the production of its products?
? Is there potential risk for ingress or harborage of bacteria?
? How will the system be cleaned?
Learn more about the benefits of soft grippers in food processing applications