Soft Robotics Development Kit - Infinite Solutions
Featured Product from Soft Robotics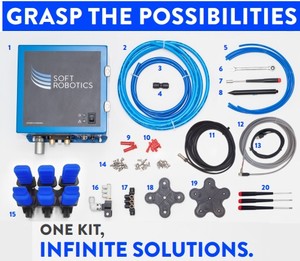 Our one-of-a-kind soft robotic gripping system enables industrial and collaborative robots to adaptively handle unstructured tasks and objects of varying size, shape and weight. This single, integrated, and easy-to-use solution is perfect for automating applications like:
• Primary and secondary food handling and packaging
• High-speed pick and place lines
• Consumer packaged goods
• Warehouse logistics
• Bin picking
With the Soft Robotics Development Kit SRDK 2.0, users can quickly prototype and test an infinite number of gripper configurations across multiple applications. Once your custom tool is created with the SRDK 2.0, Soft Robotics' engineers can work with you to transform your prototype into your production tooling. The SRDK 2.0 can then be used to build another tool, and another, and another - solving every last one of your grasping challenges.
Read more about the Soft Robotics Development Kit 2.0 and watch the video
Request your Development Kit to prototype and test robotics tooling. E mail us via the links on this page