Software Cradle CADthru Software
Product Announcement from Software Cradle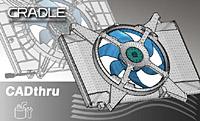 CADthru is a data translation tool used to prepare CAD data for CFD analysis purposes. CADthru's robust functions enable fast and automatic repair of geometric and topological data defects in the original CAD data. CADthru helps reduce cumbersome re-editing processes that show up when the CFD mesh is being generated and prevent creation of a high quality mesh. The CAD defects come from artifacts from the original CAD system and the processes used to create the CAD data. CADthru, enables seamless translation from CAD data to CFD data.
CADthru Features
-1- Data Conversion : CAD to SC/Tetra native format
Through the well-guided MDL Wizard, CADthru diagnoses CAD data, fixes problematic features, and outputs model data compatible with SC/Tetra CFD software.
-2- Simplifying and Editing Geometry
CADthru features a variety of useful functions that are easy to use and require little technical background : These functions include Extraction of fluid regions from the CAD model, simplification of complicated geometry and more.
-3- Pattern recognition and auto-deletion
Extraction and removal of unnecessary holes, fillets, bosses
-4- Extraction of fluid region
Creation of inlet/outlet and extraction of fluid region
-5- Removal of close faces
Removal of unnecessary gaps
-6- Solid assistant
This function imports originally complicated data as simplified data into CADthru
-7- Trimming tiny faces
Automatic trimming of tiny faces during data import (threshold value is adjustable)
-8- Automatic-definition by filter function
Automatic-setting of thermal resistance of contacting face
Automatic-setting of heat generation
Automatic-setting of material property (corresponding S file required)
-9- Wrapping Function
Simplifies a complicated geometry and makes an imperfect geometry "watertight". Using one easy operation, "wrapping" acts as if wrapping the geometry with a piece of cloth.
System Requirements
Windows
XP Professional,
XP Professional x64 Edition
Vista Business
Vista Ultimate
(OpenGL compatible graphic board is recommended)
*Intel or compatible processor
*512MB or more memory
*1GB or more available disk space
---