About Cradle Heat Designer
Product Announcement from Software Cradle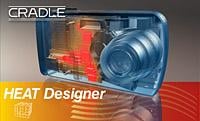 Heat Designer is used for electronics cooling analyses. It provides a simple user interface and uses appropriate pre-set parameters for electronics cooling analysis. Heat Designer is a robust product because it uses core technology from STREAM, Cradle's structured mesh CFD software with its multi-purpose capabilities and 25 years as a proven product in the commercial market. Heat Designer provides maximum performance and requires less memory consumption than competitive software. This results in faster computational speeds.
Mesh Generation
HEAT Designer uses a structured Cartesian mesh. It enables automatic mesh generation using standard length and geometric ratio. Time is saved each time a mesh is created when modifying an existing geometry, or creating or importing a similar part, because the number of mesh divisions is defined by the standard length and geometric ratio parameters
Deformation Function (Rectangular Approximation)
In some cases, the mesh may not be generated as uniformly as preferred when using automatic mesh generation. To prevent non-uniform mesh generation and false recognition of the original geometry, the geometry can be converted into staircase pattern shapes prior to mesh generation. This function enables fixing the exact mesh locations while maintaining the proper surface area and volume after meshing.
CAD Import
Heat Designer can import 3D CAD data (e.g. Palasolid(X_T),STEP(.stp),STL and IDF data, the predominant formats used in electronic circuit board design, to specify the model geometry. Useful functions such as the simplification of complicated geometry, batch deletion by size, and click-designated deletion help the user to use the existing CAD data even when it includes complex components, too few parts, and/or too many parts.
High-speed Calculations
One of the HEAT Designer's primary advantages is that it is very fast. HEAT Designer's fast calculation times come from using the same solution algorithms as STREAM, Software Cradle's multi-purpose structured grid software. Thermal design optimization usually requires conducting many "what if" studies. Therefore minimal time for pre-processing and acquiring a solution are imperative. Furthermore, a fast solver enables the user to build larger, more detailed models and still acquire results within an acceptable time. This is advantageous because it enables use of more complicated CAD data with little, or potentially no modifications to the original CAD data.
--- Examples of Calculation Speed ---
1) LCD projector, 4,510,000 elements, 128 cycles, 4 hours and 28 minutes (Opteron885 2.6GHz)
2) DVD car navigation system, 3,530,000 elements, 128 cycles, 2 hours and 17 minutes (Pentium4 3.6GHz)
3) PCB, 690000 elements, 171 cycles, 30 minutes (AthlonMP 1.8GHz)
HEAT Designer Macro Function
The Windows version of HEAT Designer can be controlled from an external program such as Visual Basic by using "Microsoft COM technology". From software start-up and exit to calling each control command, "Microsoft COM technology" enables the user to run HEAT Designer from custom designed interfaces or from within other computer programs . This can ultimately improve operating efficiencies by automating processes and/or creating user interfaces that are customized for specific user groups and applications.
System Requirements
OS: Windows XP Professional Edition
Windows XP Professional x64 Edition
Windows Vista Business *1
Windows Vista Ultimate *2
Memory: 512MB or more (Over 1GB recommend)
Hard Disk: 1GB or more
Others: OpenGL compliant graphics board recommended
*1)Potential problems may occur, e.g. slow display speed depending on system configuration and settings.
*2)Potential problems may occur due to the Ultimate Edition not being properly compiled.
---