About Cradle scSTREAM Software
Product Announcement from Software Cradle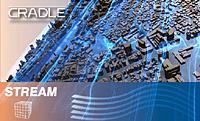 scSTREAM is general purpose, structured mesh (Cartesian or cylindrical) thermal fluid analysis software. scSTREAM has been used in a wide variety of commercial applications since it was first released in 1984. Over the years since its inception, scSTREAM has increased its capabilities to appeal to a broader range of general applications.
scSTREAM is recommended for those who simulate models where many of the parts are composed of predominantly rectangular shapes. Any curves and slopes in the geometry are expressed using stair step shape approximations. Examples include an indoor air conditioning system, environmental assessment of wind effects on building aerodynamics, and electronics cooling. scSTREAM is recommended for those who require extremely fast processing and calculation speed compared to geometrical precision.
Using a structured mesh, scSTREAM can provide extraordinary performance for both meshing and computation speed. Its performance is maximized especially for the applications that do not require precise reproduction of fine geometrical curvature to predict accurate flow structure. The finite volume method is used for discretization, which is common for thermal fluid analysis. scSTREAM can solve a 1 million mesh model using less than 300 MB of RAM. Various useful interface functions include a Visual Basic interface and a user function with tabular input.
scSTREAM Pre-processor Functions
scSTREAM uses a structured mesh (Cartesian and cylindrical coordinates). It enables automatic mesh generation using a standard length and geometric ratio saving time when working with similar shaped parts.
Depending on the complexity of the geometry, the mesh may not be generated uniformly or as wanted using the automatic mesh generation functions. To prevent non-uniform mesh generation and false recognition of the original geometry, the geometry can be converted into staircase patterned shapes prior to mesh generation. This function enables the user to define exact mesh locations and maintain proper surface areas and volumes after meshing.
scSTREAM can import 3D CAD (e.g. Palasolid(X_T),STEP(.stp),STL,DXF) and IDF data, used in electronic board design to define model geometry. The scSTREAM pre-processor contains useful functions such as simplification of complicated geometries, batch deletion by size, and click-designated deletion (useful for complex CAD data with either too few or too many parts).
scSTREAM Solver
scSTREAM uses high-speed computing to complete an analysis in a short period of time. High-speed computing also enables scSTREAM to solve large-scale analyses in an acceptable time. This allows use of complicated CAD data with minimum modification and/or clean-up to the original CAD data.
Multi-purpose CFD software can be complicated and difficult to use. To help alleviate the complexity, scSTREAM incorporates a navigation system consisting of well-organized set-up wizards and dialog boxes to guide the user through all the set-up functions, from basic features to advanced settings. This helps the user eliminate the possibility of omitting critical data inputs and makes the software more user friendly for first time users.
The Windows version of the scSTREAM Solver uses a monitoring function to indicate the status of the calculations process. The status of basic monitoring indicators can be observed in real-time or the process can be interrupted to confirm more detailed velocity and temperature developments within the calculation domain. Batch processing can be resumed at any time.
scSTREAM's parallel solver is available for further reducing computation time. The increased speed of parallel solvers is especially valuable for large scale models and for transient calculations. The parallel solver is available in various configurations and is optimized for each supported computer Operating System (OS). The Windows version of the parallel solver can be used in the same manner as the standard Windows solver. This enables the user to use parallel technology without any extra knowledge about parallel computing.
Special scSTREAM Solver Functions
Free Surface Analysis scSTREAM can simulate the fluid's free surface shape.
The MARS function enables the user to calculate how two fluids interact with each other. The Wave Generation function simulates wave propogation and attenuation on the free liquid surface. It includes use of permeable objects to simulate submerged breakwater, an important consideraton in coastal engineering.
Moving Object Function
scSTREAM can move objects independently from its orthogonal grid. The fluid flow generated by the moving objects and the resultant thermal effects can be calculated simultaneously.
Panel Heat Conduction Radiation/Porous Solid
scSTREAM's panel function enables analysis of heat conduction, transmission and radiation (solar radiation) of thin panels. This function is helpful for reducing mesh size since the panel parts are not counted as mesh. STREAM can replace a radiating fin with a porous solid.
Dew Condensation / Evaporation Function
Interaction between water on a solid surface and the moisture in the air can be calculated. The user can predict instantaneous dew condensation as well as accumulated dew condensation. Moreover, the latent heat of evaporation is taken into consideration during the evaporation analysis.
Particle Analysis Function
scSTREAM can calculate particle trajectories for general particles with mass and those that are chemically reacting.
scSTREAM Macro Functions
The Windows version of scSTREAM can be controlled from an external program such as Visual Basic by using "Microsoft COM technology". Operations from software start-up to exit and virtually all other software commands, can use "Microsoft COM technology" to remotely activate and control scSTREAM. Automating processes or creating custom menus helps improve operating efficiencies and make the software more user friendly for design engineers.
System Requirements
*Pre-Processor/Post-Processor
OS: Windows XP Professional Edition
Windows XP Professional x64 Edition
Windows Vista Business *1
Windows Vista Ultimate *2
Windows 7
Windows 7 Professional/Ultimate/Enterprise (32 and 64 bit)
Memory: 512MB or more(Over 1GB recommend)
Hard Disk: 1GB or more
Others: OpenGL compliant graphics board recommended
*Solver
OS: Windows XP Professional Edition
Windows XP Professional x64 Edition
Windows Vista Business *1
Windows Vista Ultimate *2
Windows 7
Windows 7 Professional/Ultimate/Enterprise (32 and 64 bit)
RedHat Enterprise Linux 3 or above
*Intel-compatible CPUs (x64), Itanium2
SuSE Linux Enterprise Server 9 or above
*Intel-compatible CPUs (x64)
HP-UX11 or above
*Itanium2
AIX5.1, 5.2 or above
*IBM Power4(64bit)
Memory: 512MB or more?Over 1GB recommend?
Hard Disk: 1GB or more
*1) Potential problems may occur such as a slow display speed depending on the system configuration and settings.
*2) Potential problems my occur due to the Ultimate Edition not being properly complied.
*Available OS for a license server is the same as the OS listed for Solver.
---