Germidical UV Sensor
Product Announcement from Solar Light Company, Inc.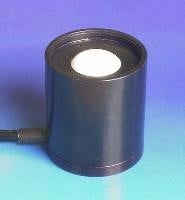 FEATURES
High sensitivity
Dynamic range 2*105
Excellent long term stability
Cosine corrected
NIST traceable calibration
Ease of use
Selectable units
APPLICATIONS
Water Treatment Plants
Purification Systems
Environmental testing
> Detectors need to be used with a Radiometer
> Analog version of this detector can be used with any 0 to 5 VDC or 4 to 20mA recording device
Microorganisms (bacteria) ,usually in air or water, can be killed using UV or a combination of UV and ozone. The UV producing lamps in the purification systems must be monitored to insure that the bacteria are receiving a lethal dose of germicidal radiation. The expensive UV lamps can be monitored to get maximum life out of the lamp before replacement. The germicidal detector can also be used to insure that the proper lamp has been installed after replacement.
Specifications
Spectral response 249-261nm, figure 1
Angular response 5% for angles <60°
Range
0.01 µW/cm2 to 2000 µW/cm2
0.1 mW/m2 to 20,000 mW/m2
Display resolution
0.01 µW/cm2
0.1 mW/m2
Operating environment 32 to 120 °F (0 to +50 °C) no precipitation
Temperature coefficient 1% /°C for solar radiation
Cable 1ft, retractable to 5ft (0.3m/1.5m)
Diameter 1.6" (40.6 mm)
Height 1.8" (45.8 mm)
Weight 7.1 oz. (200 grams)
Analog versions of this detector are available See PMA1122
---