2-Stage Standard Gas Radiant Tube Heaters (MTA)
Product Announcement from Solaronics, Inc.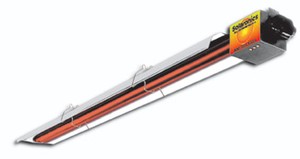 Solaronics True Dual Aluminized Two-Stage Gas-Fired Infrared Radiant Tube Heaters provide precise air to gas ratios at both the high- and low-heat stages for optimum efficiency. Excessive overheating is prevented and a softer, more stable and comfortable environment is maintained. Can save up to 75% in energy costs over conventional warm air systems, and typically save 10-15% over a single-stage tube heater.
True Dual Aluminized heaters use aluminized steel heat exchangers to resist corrosion. Models available with high-stage gas inputs from 85,000 to 200,000 BTU/hour and radiant tube lengths from 20 to 70 feet. The two-stage gas valve provides a 30 percent differential between the high and the low stage. Heater controls are isolated from combustion air for their protection.
Infrared radiant heat is absorbed by the floor and other objects in view of the heater's heat exchanger, and is not absorbed by the air. This allows use of a lower thermostat setting yet increases personal comfort when compared with forced air heat so that money is saved on the heating bill. The energy efficiency of these heaters makes them a good choice for a green building.
True Dual Aluminized heaters energy efficiency and safety make them an excellent choice for heating commercial, industrial and agricultural buildings.
Applications
Aircraft Hangars
Auto Dealerships
Auto Repair Facilities
Barns
Body Shops
Commercial Buildings
Farm Buildings
Fire Stations
Gymnasiums
Ice and Roller Skating Rinks
Industrial Buildings
Loading Docks
Maintenance Facilities
Manufacturing Plants
Restaurant Patios
Sports Facilities
Warehouses
Zoos
Product Line Features
Two-stage operation with both gas and air modulated for high- and low-heat
Aluminized titanium alloy combustion chamber
16 gauge aluminized steel 4" O.D. heat exchanger
Simple chain mounting CSA International Design Certified to ANSI/CGA Standards
Bright aluminum reflectors

98% reflectivity
91.7% reflectional efficiency (shape)
Rotatable reflector arrangements from 0° to 30°

Burner fully assembled and tested – ready to hang
Factory installed wave turbulator for high efficiency
Safe, reliable operation

Durable direct spark ignition
100% safety shut-off
Pre-purge cycle for safety
System validation light
System Information
Manifold Operating Pressure

Natural Gas and LP/Propane: 5 inches WC

Minimum Inlet Pressure

Natural Gas: 7 inches WC
LP/Propane: 11 inches WC

Maximum Inlet Pressure

Natural Gas and LP/Propane: 14 inches WC
1/2 inch FPT Gas Inlet

Electrical Rating

120 VAC – 60 Hz – 1 Phase
1.30 max. amp. draw at 138 cfm/free air

Warranty

10 year limited warranty on Burner Core
5 year limited warranty on All Combustion and Heat Exchanger tubes
2 year limited warranty on All Burner Controls
Options
Recessed Ceiling Kit
Side Reflector
90° Elbow with reflector
"U"-Bend with reflector
Common Vent Couplers
Inlet and Exhaust Kits
Blower Enclosure
Available in stainless steel construction as model SMTS
Available with 12 gauge black steel heat exchangers as model MTS
---