Medium Voltage Soft Starters
Featured Product from Solcon Solutions LLC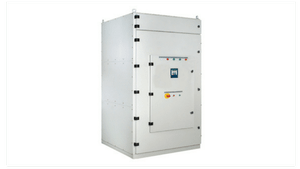 Medium Voltage Soft Starters
Solcon Solutions offers three different medium voltage soft starters to fit any application you might need.
The Difference Between Soft Starters and VFDs
Industrial motors require large quantities of energy when rapidly accelerating to full speed. To curb this issue, soft starters and variable frequency drives (VFDs) can be utilized to reduce inrush currents and lessen mechanical stress on the system - protecting your expensive equipment and expanding the overall life of your motor by minimizing heating caused by frequent stops and starts. Choosing between a soft starter and a VFD is dependent on a number of factors including the associated application, system requirements, and total cost. Below, we'll break down the distinct differences between soft starters and VFDs, the advantages and shortcomings of both, and hopefully help you decide which is the best fit for your business.
We offer a full-line of services.
We're more than just motors.
Watch>>Solcon Solutions
Solcon USA is now Solcon Solutions! Solcon has been manufacturing solid state soft starters for over 40 years and is recognized throughout the world for their highly engineered solid state controls, protection products and world class service. Solcon Solutions delivers this same high level of product, service and support to the North American market. Contact Solcon Solution's industry experts for technical and sales assistance or call us to get the name of your local representative. Service and support is also available from Solcon partners located in more than 75 countries around the world.
Solcon offers a broad range of solid state soft start solutions from 115V to 15KV, up to 3000A