Solcon Solutions RVS-DN HEAVY DUTY SOFT STARTER
Featured Product from Solcon Solutions LLC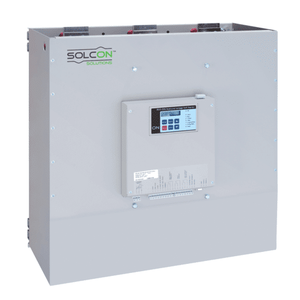 RVS-DN HEAVY DUTY, LOW VOLTAGE SOFT STARTER
8-3000 AMPS, 220-1,200 VOLTS
The RVS-DN is a highly sophisticated and reliable soft starter designed for use with standard three-phase, three-wire and six-wire, squirrel cage induction motors. It provides the best method of reducing current and torque during motor starting.
The RVS-DN starts the motor by supplying a slowly increasing voltage to the motor. This provides soft start and smooth, stepless acceleration while drawing the minimum current necessary to start the motor.
The third generation, microprocessor based digital control provides unique features like pump control, slow speed, electronic reversing and accurate motor protection. RVS-DN models can be supplied with options for insulation protection, thermistor input & analog output, etc.
The optional RS 485 Communication with Modbus protocol or the optional Profibus protocol enables full control (START, STOP, DUAL ADJUST, Command, etc.) and supervision.
ROBUST CONSTRUCTION
CAN BE OPERATED WITHOUT BYPASS CONTACTOR AT 50°C UP TO 820A
Designed to meet Marine Industry standards up to 3000A
Highly advanced starting & stopping characteristics
User friendly set up and operation
Line or Inside delta connection models up to 690V
Ambient operating temperature: up to 60°C
Motor insulation tester
Communication: Modbus, Pro?bus, DeviceNet
Thermistor input
Analog output
45-65Hz Auto-tracking frequency range
Max Starts per hour: 4 starts per hour at maximum ratings. 50°C / 400% In / 30 second Acceleration time.
Up to 60 starts per hour at light load applications. (consult factory)
COMPREHENSIVE PROTECTION PACKAGE
Too many starts & start inhibit time
Long start time (Stall protection)
Shear pin (jam) with adjustable delay
Electronic overload with selectable curves Under current
Phase loss
Phase sequence and Under/Over frequency
Under/Over voltage
Load loss (motor not connected)
External fault
Shorted SCR
Starter over temperature protection
Motor insulation test (option)
Motor thermistor (option)
When using "Preparation for Bypass" all protection remains active
SOFT START AND SOFT STOP FUNCTIONS
Soft start and Soft stop
Soft, stepless acceleration & deceleration
Current limiting
Torque & current control - for optimized acceleration and deceleration
Pump control program
Dual adjustment - two start/stop characteristics
Slow speed with electronic reverse
Pulse Start
Solcon Industries Ltd. is a dynamic power-electronics company that has been at the forefront of design, development and manufacturing of industrial electronic motor starting and control systems for over 40 years. We utilize advanced technol-range of Soft Starters, including both Low Voltage and Medium Voltage units, for a range of applications.