Sonic-Shield™ Noise Barrier (Mass Loaded Vinyl)
Product Announcement from Sonic-Shield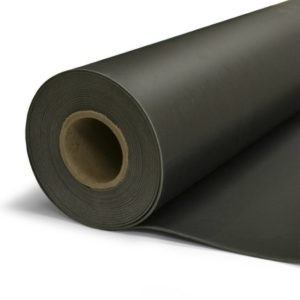 Sonic-Shield™ Noise Barrier is a flexible visco-elastic polymer that reduces the transmission of noise through walls, panels, partitions and enclosures. It won't shrink, rot or cause metal corrosion and also features a strong resistance to adverse environmental condi­tions, oils, some acids and alkalis. Furthermore, Sonic-Shield™ Noise Barrier does not contain hazardous materials, lead or other heavy metals.
The Sound Transmission Class (STC) is obtained through testing by a certified laboratory to ASTM standards. The STC describes how well the material attenuates airborne sound, and is generally related to the amount of noise that the material is capable of attenuating. For example, a typical wall in a residential house has an STC of 33, meaning that it can attenuate 33 dB from one side of the wall to the other. The addition of Sonic-Shield™ Noise Barrier to the wall can significantly increase the STC to over 50. Additional noise reduction can be obtained by using Sonic-Shield™ Noise Barrier with a sound absorbing material, such as Sonic-Shield's Sonic-Fiber™.
Sonic-Shield™ Noise Barrier is also available with a reinforced aluminum foil facing, which gives it a UL Class A fire rating per ASTM E-84, "Surface Burning Characteristics of Building Materials". Class A is the highest degree of fire resistance, which means that it resists the penetration of fire as a result of a standard fire exposure. We recommend use of Class A Sonic-Shield™ Noise Barrier in applications where fire resistance is required by building codes, including walls, doors, roofs, attics, elevators, equipment rooms, etc. Other applications that may require Class A materials include high temperature applications, such as HVAC duct liners and engine compartments.
---