High Quality inverter stud welding system
Product Announcement from Southern Stud Weld, Inc.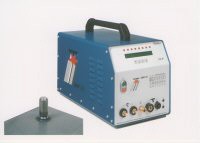 The Soyer BMK-16i inverter stud welding system from Southern Stud Weld Inc. is a multifunctional machine capable of stud welding, electrode welding, and GTAW. It has an inverter power supply design. The user can adjust welding parameters using the membrane keyboard and liquid crystal display. The stud welding system can make up to 5/8-in.-dia. stud welds with a reduced base. The system also includes automatic control of shielding gas and can be interfaced to automatic welding heads, feeding systems, CNCs, and programmable logic controllers. It can be used to weld stainless steel, mild steel, aluminum, and brass
See Our Product Announcement for the PH-2L Stud Weld gun
The new PH-2L is the standard gun for the BMK-16i Stud Welder
Weld Range: #6 - 5/8" (M3-M16) with Steel, Stainless steel, heat-resistant steel, aluminum and brass
Welding Process: Drawn Arc, Short-Cycle Drawn Arc, with ceramic ferrules or inert shielding gas.
Standard Gun: PH-2L (gas or ceramic)
Welding Current: 400 - 1000A, adjustable and regulated with stud welding
Welding Time: 10 - 1,000 ms
Duty Cycle: Up to 50 studs/minute, depending on stud diameter
Mains supply: 3 phase 400 VAC - 50/60Hz - 32 A (other voltage upon request)
Dimensions: 320 x 355 x 650mm (w x h x d) without handles
Weight: 75 lbs
---