PH-3N SRM Drawn Arc Stud Welding Gun
Product Announcement from Southern Stud Weld, Inc.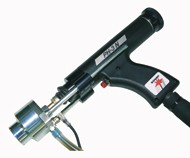 The new PH-3N SRM stud welding gun is a vital component of the new SRM stud welding technology developed by Soyer. The gun develops a rotating magnetic field that controls the arc during the welding process. This allows the SRM system to have precise fillet control during the welding process. Larger diameter weld studs can be welded on thin sheet metal with the reliable short cycle drawn arc process. The fillet is uniform around the base of the weld stud, without the use of ceramic ferrules. The gun uses shielding gas in the welding process.
---