PH-5L Drawn Arc Stud Welding Gun
Product Announcement from Southern Stud Weld, Inc.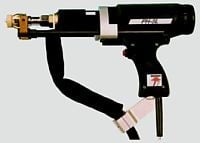 The "large" PH-5L SOYER Drawn Arc Welding Pistol is applied for stud welding using either shielding gas or ceramic ferrules as welding aids. The technically high-quality pistol is equipped with a costly oil-damping system indispensable when welding studs with a diameter of more than 0.47" (12 mm). Thus studs can be dipped into the molten welding pool rapidly but with a controlled and non-hammering action. The dipping speed can be adjusted to each stud diameter by means of simple, fine adjustment.
Weld Range: Studs and pins of 1/4" - 3/4" (M6 - M20 or � 6 - 20 mm)
Material: Steel, stainless and heat-resistant steel
Total length: approx. 11.8" (300 mm)
Total height above grip: approx. 7.3" (185 mm)
Total width: approx. 2.3" (59 mm)
Weight: 5.5 lbs (2.5 kg) (without cable)
---