Soyer BMS-9 Stud Welding System
Product Announcement from Southern Stud Weld, Inc.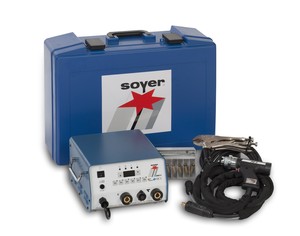 The innovative BMS-9 stud welder and the PS-9 stud welding gun.
This small, lightweight and portable stud welding system represents a new generation of stud welding equipment and offers many interesting technical features.
For the first time, it is possible for operators to view all important operating conditions with the help of an LED display using the traffic light principle on the PS-9 welding gun. The green LED display on the welding gun tells the operator when the stud welding device is ready and can be operated. Faults are signalled using the red LED display. The circular LED display shows the current operating status from any angle.
The high frequency switching power supply and advanced microprocessor control allows precise adjustment of all weld parameters. The advanced control system allows both gap and contact methods.
The gap method with the PS-9 gun uses an electric lift system that eliminates many of the problems that occur with old mechanical lift type of guns.
Heavy duty weld connectors eliminate the problem of damage occurring because of lose connections.
Each system includes a carrying case made of ABS plastic and a full set of accessories.
---