Lift and Tilt Tables
Product Announcement from Southworth Products Corp.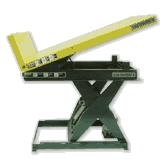 When there is a need to precisely position containers with independent control of vertical lift and tilt angle, E-Z Reach Lift and Tilt is ideal. For most applications, Southworth utilizes its exclusive Universal Tilter Base (UTB). Unlike a typical scissor lift base, the UTB is specially designed to compensate for the shifting center of gravity as the load is tilted. It has an open frame top which allows the tilting hydraulics to retract within the frame resulting in a lower profile when in the full down position. The UTB also combines a shorter but wider stance for improved stability in a minimum footprint. E-Z Reach Lift and Tilt can be furnished with a wide variety of tilting platforms which combine the application requirements for container load, container size and the degree of tilt.
---