PORTABLE LIFTING PLATFORM HAS MANY USES
Product Announcement from Southworth Products Corp.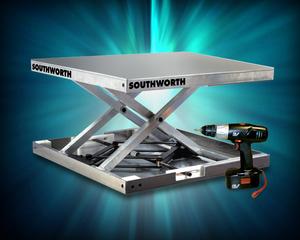 Southworth's portable Lift-Tool™ is an economical alternative to variable-height workbenches. The simple yet versatile device facilitates a wide variety of lifting and positioning jobs and requires only a cordless drill to move the platform up or down. It is ideal for electronics assembly, quality control/inspection, packaging, hobbies, and many other applications.
At a workbench, the Lift-Tool helps improve the user's posture, reducing fatigue and back strain and thus improving his or her concentration and productivity. For a shift change at a shared workbench or simply to alternate between sitting and standing during repetitive-motion tasks, a worker can quickly and easily adjust the platform within a vertical range of 14¼" to accommodate the work at hand.
Fully raised, the Lift-Tool's 22" x 23" platform is 17¾" high. With a load capacity of 300 pounds, it holds nearly 10 times its own weight, which is only 32 pounds, and is only 3½" high when lowered. The user smoothly raises and lowers the sturdy aluminum platform with an electric drill — a socket in the unit's durable steel screw-jack mechanism accepts a hexagonal bit. With a cordless drill, no other power supply is needed, so the Lift-Tool is truly portable and ideal for outdoor as well as indoor use.
The Lift-Tool is a welcome addition to repair shops, garages, assembly plants, service vans, construction sites, workshops, art studios, etc. The patented device can be carried easily or mounted to the side of a maintenance cart.
For positioning/steadying certain heavy objects, such as in the installation of a cabinet or microwave oven over a range or sink, the Lift-Tool allows one worker do a job that once required two. The Lift-Tool's slotted platform allows for the use of straps and other workholders to securely fasten loads. A plastic cover (included) can be placed on top to protect delicate items or underneath the base to protect work surfaces. For jobs requiring broader support, the Lift-Tool can be supported by an optional, adjustable straddle frame. Other options are a turntable and a slanted "assembly easel" that positions work at 25°.
Founded in 1890, Southworth is a pioneer in the field of ergonomics and the world's leading supplier of vertical lifting and positioning equipment. Available through a national network of highly trained distributors, all Southworth products provide reliability, durability, safety, and ease of use.
For more information, contact Brian E. McNamara, President, Southworth Products Corp, P.O. Box 1380, Portland, ME 04104-1380, TEL: (207) 878-0700, FAX: (207) 797-4734, e-mail: salesinfo@southworthproducts.com, www.SouthworthProducts.com.
---