PalletPal Stretch Wrappers
Product Announcement from Southworth Products Corp.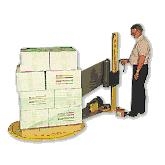 Handwrapping is dangerous. An inexpensive alternative, the PalletPalTM Stretch Wrapper incorperates a low-profile powered disc turntable and a stationary mast assembly. Simply wheel a loaded pallet onto the disc and move the strech wrapping wand up and down the mast as the powered turntable spins the load.
---